At Ubix, clear visuals don't stop with management. It's time to get creative with our stunning wall and floor graphics, guaranteed to liven up any empty space. Engage employees and convert clients with Ubix Office, boasting both practicality and Brilliance.
Invite convenience with Ubix Office signage. Click on our selection below to learn about our office products
Directory signs
Whether its direction, information or identification, set your organisation on the best course with Ubix directory signs!
Acrylic signs
A refined option for office signage, featuring a glossy finish and stunning design, Ubix acrylic signs are sure to command any audience.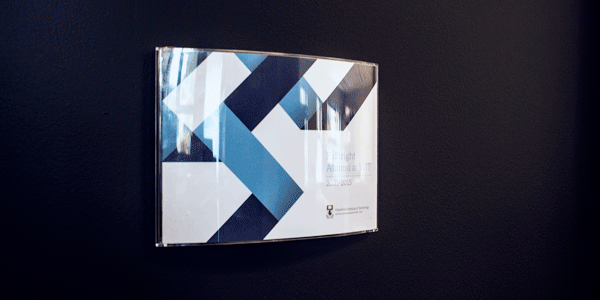 Modular Signage
The robust solution for signage, modular sign adaptability means easy while durable update of information.
Name Signs
Introduce quality with the Ubix name signs and plates.
Pull up banners
Direct attention to your business with a portable and easy to assemble Ubix Pull-up banner, featuring brilliant and custom design.
Logo Blinds
Always choose versatility with UBIX custom roller blinds.
Brighten up your business with Ubix custom wall and floor designs and print
Custom dry wipe walls
Big ideas need a lot of space, that's why at Ubix we'll fit any room with made-to-measure dry wipe walls to keep your bright ideas flowing!
Wall Prints
Make your office more inviting for those who matter and decorate with Ubix Custom Wall art.
Wall Art
Reinvent the workplace with personality adding wall-art featuring exceptional print and finish.
Floor markings
A cornerstone of effective material control, floor markings are an easy and clutter free way to organise your workspace.